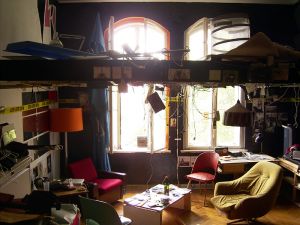 The situation with Virginia Commonwealth University's off-campus housing can reach critical mass during peak enrollment seasons. Securing a place to stay within the school's vicinity should be done early, especially for families who live particularly far away from VCU. Scoring an affordable and comfortable place for your child on his way to college, while beating the enrollment rush, will secure him a commodity that will make his or her campus life much easier.
While there are many choices for a given family to choose from, Pine Court apartments remains to be one of the top picks for families searching for VCU off-campus housing. Students who study at VCU, or any other college for that matter, will need more than simple apartment amenities to survive in the university lifestyle. Pine Court offers everything a student will need, such as wireless internet and much, much more.
Richmond's Student Housing Situation
VCU and the surrounding area of Richmond certainly have many choices for the student looking for accommodating housing units. However, applicants for many apartments and other types of housing will first need to secure reservations way before the school year even begins in order to be accommodated at all.
As far as on-campus housing is concerned, VCU has implemented a large expansion project for its school grounds. This includes on-campus housing facilities designed for students, two of which being the West Grace North and South student dormitories. The South Housing building will contain 459 bedrooms, as well as 218 parking spaces, while the North building will have a capacity of 388 students. Both facilities are slated to open for the Fall 2012 term at VCU.
However, on-campus housing can have many disadvantages compared to off-campus types of residences. You'll have to share your room with somebody else, who may or may not be somebody you are comfortable living with. Looking after your personal hygiene, as well as potential noise and security matters, will turn out to be issues later on.
This also rings true for many off-campus housing units around VCU, too. A lot of them do offer many amenities and luxuries that make them more comfortable than on-campus housing units, but the prices one will have to pay for even a simple apartment are through the roof. A simple internet search will reveal just how much apartments and other kinds of housing units in the area cost: Upwards of $1000 for rent alone.
An alternative to off-campus apartments or on-campus dorms can include rooms for rent, which may or may not be shared with other residents or roommates. These are certainly cheaper alternatives that might even include useful amenities like wireless internet, but you will have to look particularly well on your own time and effort to find such a place. Your safety and security in housing choices like this rest in your own ability to sniff out the good from the bad.
So what other choices does a new student to VCU when it comes to off-campus housing units? Perhaps the answer is Pine Court apartments, which strikes the balance between price and luxury geared towards the working student.
Pine Court Apartments: Bang For The Buck
Around the Virginia Commonwealth University area is where the Pine Court Apartment Complex sits. Located just a block down from Cary Street and the VCU New Business School, these apartments offer safety, security, essential amenities and simple luxuries at accessible prices for the hard-working student.
Here are what the Pine Courts have offer for residents:
Apartments with utilities included, such as electricity, running water, and other utilities will make sure a student resident will be able to survive to the fullest.
On top of the essential utilities, luxuries such as cable TV and high-speed wireless internet are included with every room.
Safe public areas, including in-house laundry areas, common courtyards and secure parking lots will make sure everything outside a student's apartment is also accommodating.
Safety and issue for concerned parents? No problem: the entire Pine Court complex is monitored by CCTV cameras 24/7, while every apartment door can include an optional dead bolt lock.
Reaching management is also easy and convenient, as they are available around the clock if a resident is having any kind of problem.
Last, but not least, small efficiency bedrooms at the Pine Court start at a meager $750 fee, which includes the luxuries like cable TV and high-speed internet!
Common areas are maintained by a trained cleaning staff on a regular basis, so that the surrounding areas within the Pine Court are always clean and inviting. It's certainly more than we can say for other off-campus housing units around the VCU, especially at this price point.
That's not to say there isn't a shortage of other, reasonably-priced housing options around the VCU area that contain good luxuries and amenities. A little research can go a long way, especially if you are a concerned parent searching for similar accommodations for your fresh high school grad child. Don't skimp out on the time and effort to get the best in safety and comfort for your loved ones!
Pine Court Apartments can certainly save you this effort with its budget prices and great luxury for the prices you end up paying. Off-campus housing around the VCU area might end up the key to the success of your child's new life in a whole new town.