The Virginia Commonwealth University area not only offers housing for regular students, but also for graduate students pursuing continuing education. Post-graduate studies can often take its toll on students, so it's very important that students have a comfortable place to relax and rest. Pine Court Residences offers comfortable and affordable housing to those seeking to pursue continuing education in and around the VCU area.
VCU housing can offer amenities that cater specifically to students, such as the convenient location right next to the VCU campus. High-speed Internet, uninterrupted supply of electricity, in-house laundry services, and more ensure that both undergraduates and graduate school residents can live comfortably for as long as they stay. These amenities and more will help you get the most out of your graduate studies, whether at VCU or otherwise.
Graduate Studies and You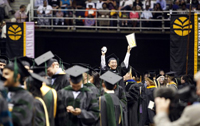 Graduate studies can take their toll on individuals who decide to pursue continuing education, and in more ways than one. Schedules are more rigorous, subjects become that much harder, and the admission process in some schools can be very difficult to meet. It may come as no surprise that getting admitted into VCU for graduate studies may be a difficult task.
Extended stays in and around the VCU area may come as a result of admissions, or a more rigorous schedule if accepted. While you may not be allowed much free time during the intense schedule of a grad student, you will at least need to get some rest every now and then. A meager student budget may also restrict your options for housing.
Pine Court Apartments can help ease both of these conundrums; providing both the convenience of location in addition to affordable prices. A grad student lifestyle may mean that time spent traveling is time wasted, so being able to walk to class in minutes can be a boon to most. The prices of accommodations at Pine Court Apartments are all-in. A graduated student need not worry about other things such as having to for pay tuition fees with rent money or vice versa is minimized.
Security can also be a problem common around the VCU vicinity and surrounding premises, meaning college students are also a prime target for theft and burglary. Around-the-clock security teams and state-of-the-art security systems ensure that graduate students at Pine Court Apartments are kept safe. One worry is now out of their minds, letting graduate students focus on the matter at hand: getting that graduate or master's degree to increase knowledge and boost earning potential.
In case of emergencies, Pine Court Apartments is conveniently situated close to not only VCU, but also to emergency service stations such as police outposts and fire stations. Grad students who may have a bit of an accident when experimenting at home or gathering data for a thesis need not bleed to death in more dire situations.
Amenities and Utilities
Graduate students need more focus and attention to complete graduate or master's degrees. Worrying about things like blackouts, faulty Internet connections, leaky pipes, or even their laundry can inevitably lead to a drop in grades. Circumstances that are beyond their control can put an end to the hard-earned graduate course they dream about.
The many utilities and amenities that are offered at Pine Court Apartments are designed to be as consistent and convenient as possible in order to provide graduate students and other residents a worry-free living experience. These utilities include:
The essentials – Water, electricity, sanitation, private bathrooms, and even cable television with channels like HBO are standard in every apartment unit.
High-speed Internet – Now a necessity, students and regular residents alike will be glad to hear that Pine Court Apartments is here to cater to their dependence on the Internet.
Laudry facilities – Grad students are going to have to come out of their apartments sooner or later; sometimes because of the smell that their unwashed clothes make. Laundry services are on-site at all Pine Court Apartment buildings.
On-site maintenance – Should you have a faulty Internet connection, leaky plumbing issues, or a wall socket that needs fixing, on-site maintenance will help make your lifestyle even more convenient.
Janitorial services – Keeping a building clean is essential for a grad student's health and well being. Janitorial services are active around the Pine Court Apartment buildings daily.
Secure parking areas – VCU students are often seen complaining about the security and scarcity of parking in the campus parking lots. Pine Court Apartments provides not only a home for you, but your beloved automobile as well.
About Pine Court Apartments
Pine Court Apartments is a family-run student housing business geared towards grad students and undergrads alike. Pine Court has over 10 years of experience constructing residential buildings in the State of Virginia, with over 2000 apartments built since they started operations a decade ago. Years of experience and widespread availability make Pine Court Apartments a go-to for students looking for affordable yet comfortable living spaces.
Graduate students who are strapped for cash, because of student loans or for whatever other reason, will be glad to know that the prices when obtaining accommodations in Pine Court apartments are all-in. This means that utilities and other expenses are all included in a single rent check each and every time, it needs to be paid at the management office.
Good and efficient management is also an aspect that Pine Court Apartments prides itself in; management teams stationed on-site at every building can be easily reached 24 hours a day, 7 days a week. Should you have a certain problem regarding your rent checks or other management concerns, a quick call should have your problems solved. Graduate students at VCU will find this particular feature useful for the maintenance of their housing needs.