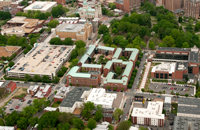 Every college student dreads something in their apartment. It's not the building manager, not the creepy roommate, and not even the shadows that lurk inside cabinets or under beds. It's the rent that they have to pay every month! It seems that this problem happens to every college student – and when you graduate you once again experience this when you move to your own living space.
But there is something new, something that gives college students a new light in campus housing. Pine Court Apartments at Virginia Commonwealth University now offers very affordable apartment units for every college student – starting at $750.
At $750 You Get..
Various amenities such as security cameras around the building – which is accessible through the television set that is included in the rent. Mind you, the television does not only have access to the security cameras, but also has cable. Watch movies on HBO and STARZ after figuring out the solution to that Math problem you've been trying to answer for hours!
High-speed Internet connection. Do we need to elaborate more on this one?
Dependable electricity and water supply. With the fast-paced university life, electric and water interruption should never add to the problems of a college student. With the utility service at Pine Court Apartments, life continues without interruption for the hectic schedule of the busy college student.
Parking space with remote control access. Because parking always becomes the main source of security problems for any college student with a car, a secured parking space is a luxury added to the monthly rent!
Each unit is designed and equipped with a private bathroom. Nothing says comfort and peace of mind than private comfort and a clean bathroom. A working sewer also helps! A busy college student may not be too enthusiastic with baths, but the main reason that the bathroom is there gives the unit a more comfortable feeling – a subtle privacy concern addressed by Pine Court Apartments.
Lastly, laundry facilities. Convenience is the key for a successful college life. Laundry facilities within the building give the student the chance to experience hassle-free living without piles of dirty clothes strewn on the floor!
Can I Practice Being Independent?
Definitely. At every Pine Court unit, you are the master of your universe. The universe is your unit, and the unit is your universe. You are subject to your own rules. You can study while taking a bath at the same time, and even watch your favorite movies during your free time. Since privacy is the main concern when living outside your parents' house, Pine Court Apartments suit your need to be independent in your own private area.
Because almost everything you need to live is already included in your monthly bill, Pine Court guarantees that your college life will be pleasant – less worrying for deadlines and the stress of studying itself. But the beauty of living independently, without your Mom calling for you to wake up, is a new perspective in your life; Your college life.
The Main Point of Housing Options
First of all, you must assess the area that you want to live in. VCU Off campus housing options often gives each and every college student a headache. But deciding to live in Pine Court Apartments, all factors to be considered in choosing a place to stay are guaranteed to be met and even exceeded. It is strategically located within the university. Just along Cary Street – the main road towards the campus. This means that you can already see the short distance Pine Court has with VCU.
At $750 you get to have high speed Internet connection, electricity, water supply, cable TV and a sweet en suite room. Compared to living in an apartment off campus, your $750 gives you more at Pine Court Apartments. Added to that bonus is the daily janitorial services to keep the halls and the corridors clean, making sure that all the convenient amenities are spread before you.
Security cameras
Security is one of the most convenient luxuries that Pine Court Apartment offers to every tenant living on its buildings. With this modern way of securing that you and your belongings are safe night and day, you can sleep and go to school without having to think if somebody gets your personal properties while you are away.
And all the space you need
Parking space, personal space, and private space. You get to have this for the starting price of $750. What is more important is that when you have your own space, you tend to become more focused on what you are doing – studying. Students who decided to stay at Pine Court Apartments are happy, free, and more focused with their academic life.
I Want A Unit NOW!
You can apply online before the school year starts to ensure that you can have a place to stay for the whole year. Click here for our online Application form. You can choose from different units, with the exception of having to go through wasting a lot of time. Mom and Dad will be pleased to know that you have chosen to live in a quiet, secured and well-managed housing – on a budget. The start of independence is the start of choosing a good apartment to live in, the way Pine Court Apartments guarantee you and your parents.