College and university life is often defined as a tiring but happy adventure towards the goal of independent life. Studying and living away from our parents' house is a critical situation, especially to freshmen students. The comfort of your bedroom within mom and dad's house is quite different from the bunk beds that are prevalent in school dormitories and boarding houses.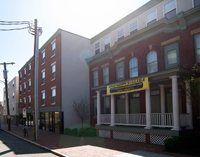 Living away from home is very different. Not like in the movies, where a student can become roommates with a person of the same style or have a room with luxurious beddings and sheets. Most of the time, a college student suffers from the lack of knowledge when it comes to selecting the proper lodging that is conducive for learning, as well as for the hectic schedules of a college student.
So what defines proper lodging?  Leak free bathrooms, hot and cold shower, secured neighborhood, laundry facilities, parking space, and security cameras are just a few things that could define one. Plus add a private bathroom, uninterrupted electricity and water supply, high speed Internet connection and what do you have?  – Luxury college living.  And believe it or not, it is available to anyone living off a college student's budget.
At Pine Court Apartments, students studying at Virginia Commonwealth University can have the same feeling of living at home, but with the privacy and independence that a college student needs. Off campus living with on campus convenience holds true for Pine Court Apartments. Off campus housing at VCU and university life has become very convenient because most of the necessities are now located within the vicinity of the apartments.
So what can I get from Pine Court Apartments?
Quiet Study Area
Imagine endless nights of studying – the peace that it requires and the stress that comes with it. Now imagine living in a space where you can find a steady Internet connection, reliable electricity and water supply in a secured location. That's where Pine Court Apartment comes into place. You are guaranteed the peace and quiet that you need to study plus the basic need of every student today – an Internet connection.
Reliable Comfort
Comfort is one of the luxuries that college students can have while staying at Pine Court Apartments. Because electricity, water supply and Internet connection are reliable, as well as the cable TV, there is no need for time-consuming repairs and waiting time for students on the rush for the next lecture or exam. At Pine Court Apartment, one is guaranteed that every bedroom has its own bathroom. Comfort also means peace of mind. There is a camera security system within each building and each apartment has dead bolts on doors. You can even view the security camera on your TV! Now that's very different from living too far away from the campus!
Secured Premises
At Pine Court Apartments, one is guaranteed to have a good rest after a tiring day of class because the perimeters of its buildings are equipped with state of the art security cameras. Another feature is the sprinkler and the smoke detection system. If having a good sleep equals to high security and a guarantee that the space you are living in won't get burned while you sleep, Pine Court Apartment is the best place for you!
Parking Space!
University life is hard without a car. And university students with a car often suffer from the lack of parking space. But at Pine Court Apartments, the vicinity is equipped with convenient parking spaces that are guaranteed to be secure because cars can only come in through remote control access. Having a parking space and security are the best things in life when it comes to living worry-free near campus.
Budget Wise Housing
With all these amenities and features, you may think that living at Pine Courts will cost you a fortune. Well, not at all! You can choose from different styles of rooms in an apartment with the same amenities – with costs that are suitable for every student. Keep in mind that each unit has electricity, water, sewer, internet, cable TV, security, parking space, daily janitorial maintenance and a private exterior courtyard. If you decide to live far away from campus, these amenities will have to be paid separately.
So is Pine Court near the Campus?
Pine Court Apartments gives you a very short distance from the main student facilities on campus, making it one of the most conducive housing options for the budget-wise student. Situated along Cary Street, which is the main street running through the campus, you can easily access, whether walking or biking, any of the University's buildings. Having the amenities mentioned above, it's like living in your house that is walking/biking distance from your school!
What Would My Parents Say?
With the modern security features that Pine Court Apartments have in all its buildings, security will never be a problem for mom and dad. The parking space is enough for you to convince dad to buy you a car. Mom will be delighted to know that you can always call the building manager when there happens to be a problem. Dad will like the privacy that each unit has – along with the private bathroom. And Mom will be happy to know that you won't bring any dirty laundry when you come home every weekend because the rent at Pine Court includes laundry facilities. So all in all, with these VCU apartments, everybody will be happy.