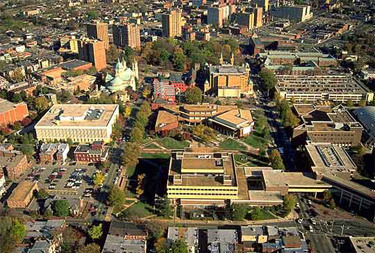 The Virginia Commonwealth University is a world renowned college that is located in downtown Richmond, Virginia. It's location offers access to all the big city amenities that you could ever dream of, but unfortunately, it also comes with all the issues that can come with city.
Richmond is plagued with parking problems – if you actually find a parking place that is within 5 miles of your destination, you can give yourself a big pat on the back. But after you pay the exorbitant parking fee, you'll probably realize that you are already ten minutes late for class – hardly an ideal situation.
Then, there is the issue of security. Richmond is much lot safer than large cities Philadelphia or Chicago, but there are still some trouble areas in the city.
Taking these factors into consideration, along with a whole bevy of others, is important when looking for VCU apartments. VCU housing is sometimes difficult to find, but if you can find suitable accommodations at VCU, it will make your life a whole lot easier. Following are the 4 main things you need to consider when looking for apartments at VCU.
Location
When it comes to VCU housing, and university housing in general, location is incredibly important. If you do choose to live in VCU off campus housing, you want to choose apartment buildings that are as close to the VCU campus as possible. The last thing you probably want to do after a long day of hard work is sit on a bus for half an hour or walk ten miles to get to your VCU off campus housing.
In general, you should look for VCU housing that is less than 2 blocks off campus – preferably closer to 1. This way, you may even be able to return to your apartment in between classes to take a nap or have a quick, home cooked meal. Most people underestimate the value of having VCU off campus living quarters very close to the university campus.
Amenities
The next thing you need to consider are the amenities of particular VCU apartments. Most VCU housing facilities are quite "bare", to say the least. VCU off campus apartments are known to be notoriously basic when it comes to amenities – after all, university students don't usually have big budgets and aren't the most "careful" when it comes to these kinds of things.
Things to look for are laundry facilities, outdoor areas that you can use for a barbeque, an in unit dishwasher, and even guest parking. You won't be able to find many VCU off campus apartments that include things like pools, fitness rooms and other fancy things, but we are talking about student housing here, not luxury living.
Security
Security, especially around universities, is always an issue. VCU is a pretty safe university with a significant security presence, but there are some issues with some of the surrounding areas in regards to crime. For most people, it isn't a major issue to deal with, but you do have to be careful when choosing housing at VCU.
It is essential that the VCU apartments you consider have the appropriate security measures in place to keep you safe. Now, VCU off campus apartments don't have to be on the same level as Fort Knox, but simple things like controlled access, adequate outdoor lighting, and appropriate door locks on all doors are very important.
Parking
Lastly, when looking at VCU off campus housing, you need to consider parking. There are quite a few great VCU off campus apartments available, but if you own a car and they don't offer parking, they are of no use to you. You could always park your car at another location, (which will cost you quite a bit of money every month) but it just isn't worth the hassle.
When looking at apartments at VCU, consider the parking situation. Is parking available? How much does it cost every month? Is it an outdoor pad or is it an underground parking garage? If it is an outdoor pad, are you responsible for clearing away any snow on the rare occasion that it does snow? What is the security situation like? These are all important questions you need to ask when looking at potential VCU housing.
If you can find VCU housing that offers an ideal location near the VCU campus (preferably within a block or two), offers a wide range of amenities, is safe and has adequate parking facilities, you can't really go wrong! When you do find housing at VCU that meets all these requirements, sign a lease as soon as possible – there is a good chance that if you don't, someone else will!